Two Guys Garage Doors - Garage Door Spring Services Chicago, IL -

773-541-8009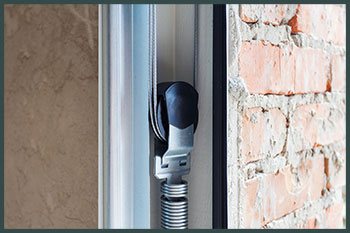 Springs are very important for the smooth and safe operation of your garage door. They help in raising and lowering the door and take up most of the doors weight. Because of this springs are prone to wear and tear and there is a huge possibility they might break during operation. Broken springs should never be ignored. First, they are important for smooth operation. Secondly, since they take up most of the weight of the door, if they malfunction, the door might come crashing down and lead to unimaginable damage. That is why it is important to replace or repair a broken spring the moment you realize its presence.
Springs should always be picked based on the dimensions and weight of the door. An inexperienced person may fail to pick the spring of the right size and type and install it to your garage door. The mechanism might work for some time but you will face problems with your garage door very soon. So it becomes very important to choose the right spring and more importantly choose the right technician for installing the spring. Two Guys Garage Doors experts have the knowledge of different types of springs, how to replace them, how to repair them and which spring is best for which kind of door.
Our team has replaced springs, repaired broken ones and tightened springs where required. All the products that we use are of the best quality and you can choose the spring that best suits your budget. They are two types of springs to choose from, you can read more about them below:
Torsion springs
Torsion springs are becoming common these days as they offer convenience to home and office owners. Torsion springs are positioned above the door and they balance the door. It is secured with a metal shaft and the metal shaft runs through the middle of the springs. The springs lift the majority of the weight of the garage and for that reason, they are prone to wear and tear. If the springs break the door won't suddenly come down, as the cables will hold the door in place. This is an added safety feature for torsion springs and that is why they are becoming the preferred choice for many of our customers.
Residences with single garage doors or big industrial houses with big steel garage doors in place have started using torsion springs for more convenience and added safety. These springs are generally expensive and have a life expectancy of only 7 years. Get in touch with us to know more about torsion springs.
Extension springs
Extension springs are the second type of springs that are generally installed on garage doors. Extension springs work independently to each other. They run parallel to the track and help in opening and closing the door. Extension springs are prone to quicker wear and tear as they work independently. That is why despite being a lower cost option, homeowners and businesses tend to opt for torsion springs.
If you need maintenance services for existing springs or need a replacement in Chicago, IL area, Two Guys Garage Doors is your best option! Give us a call today!